Helmets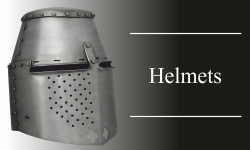 When it comes to Medieval armour, quality is important. Unfortunately, high-quality, authentic Medieval helmets, breastplates, shields, chainmail, shoulder, shin and forearm plates and gauntlets can be hard to find. The inauthentic version of Medieval armour can look gimmicky or they can be made of modern, synthetic materials.
Historical Reproductions has been a popular choice for historic re-enactors because we sell Medieval armour and clothing that is made from traditional materials and produced and manufactured using the traditional process. One of the brands we sell, Get Dressed for Battle, manufactures all helmets according to historical templates. These may be well-preserved pieces from collections, such as our Barbuta and Celeta, from grave finds like our Coppergate or historical illustrations like the helmets from the Maciejowski Bible have been reconstructed by us. The Medieval helmets from Get Dressed for Battle are of the most common forms of the early to the late medieval age. We pay attention to the different types of helmets, such as Bascinet, Sallet, Pot and bucket helmets etc. to preserve the most accurate appearance as possible. We find and replicate the earliest and most recent versions of each type of helmet so that you can choose between different helmet types in a time period.
If you need a historical warrior helmet, look no further than Historical Reproductions. To learn more about us and our authentic historical re-enactment clothing, armour and weapons, feel free to contact us.