Roman Helmets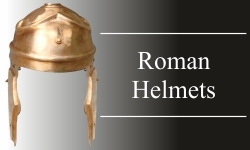 The Roman Empire was a sophisticated and advanced one. It's military prowess and power went unmatched for many years, greatly expanding the Empire's reach and dominion. One of the Romans greatest military strength was the constant improvements it made of its soldiers' armour, weapons and helmets.
Roman helmets, called galeas, like other aspects of the Roman military apparel and accessories, came from those of the peoples and countries they defeated. The helmets worn by Roman soldiers were inspired by the favorable and advantageous characteristics found on the helmets worn by their adversaries. As time went on and warfare became more sophisticated, new and improved helmets were produced.
The oldest type of Roman helmets was simple montefortino helmets made of bronze. These helmets were soon replaced by steel Roman helmets as steel was more durable and effective in protecting the wearer. The montefortino helmet was replaced with the Coolus helmet which was then superseded by the Imperial helmet. The Ridge helmet was last helmet type the Roman militia used.
Historical re-enactors and collectors of steel Roman helmets can find a wide variety of them at Historical Reproductions. Whether you're looking for an early, mid or late Roman style helmet, you can find the one you need, made by one of the best manufacturers in the business, Get Dressed for Battle.
If you're looking for Medieval armour and accessories, we have those as well, so you can find that missing part of your collection or the most historically accurate outfit for your historical re-enactment.