Roman Armour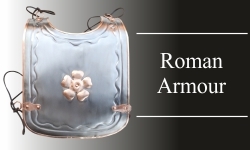 The Roman military was one of the most advanced and powerful in the world. Their use of advanced materials and innovation made Roman armour superior. Their sophisticated equipment resulted in numerous victorious battles. When it comes to world war history, the Roman military is always cited as an important forerunner in modern warfare and military strategy. For centuries, the folklore and myths of Ancient Rome, particularly of Roman gladiators and military leaders, has captivated and captured the minds of both the young and old.
Those who are ancient Rome enthusiasts, those interested in military or world history and or historical re-enactors will enjoy their authentic Roman armour from Historical Reproductions. Our high-quality armour and weapons are also enjoyed and displayed by collectors. We can help you get the authentic and historically accurate Roman armour including Roman shields and Roman helmets you want by partnering with the brand Get Dressed for Battle. We also offer harder to find, less popular items such as textile armour, which was widely used by Roman soldiers who didn't have the traditional tinned steel armour that one usually imagines with the Roman militia.
If you're in need of more contemporary war armour, we also sell various, authentic components of Medieval armour and Viking armour. View our vast selection of Roman Armour below.